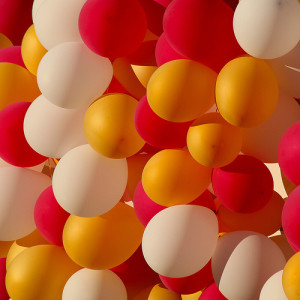 This is a guest post Amy Beth Miller, business writer and editor. 
An old Dear Abby column reminded me how much some people care about office birthday celebrations, although some love them and some hate them. I'll bet "birthdays" doesn't appear on your job description, but how you handle them can make a difference.
In one great company where I worked, the birthday celebrations became legendary. Employees told stories years later about some of the elaborate—and multilevel—practical jokes in which even the highest executives took part.
Managers also put thought into the celebrations, like the time my boss ordered pierogies that we heated in the office microwave. I'm sure they weren't nearly as good as those made by my co-worker's Polish mother, but he appreciated the gesture.
Employees seemed touched by even the smallest recognition, like when I remembered that one of my team members preferred white cake, not yellow.
That was a small, highly productive company with a positive culture. In a large organization, one simple party for every birthday that month seems like a great solution. That is, unless the party is held when one or more of the honorees can't attend.
It matters less whether and how you celebrate than that you are consistent. Taking the staff to lunch for one birthday and forgetting the next one undermines morale.
So if you plan to celebrate your staff members' birthdays, put them on your calendar early. Even then having a generic card on hand can be a lifesaver. One morning as a new employee was completing her paperwork, I discovered that her birthday was that day.
The best practice I've seen for birthdays is giving employees a paid day off. They will never forget to take it, they will appreciate the extra time off and nothing will cause drama or distraction in the workplace.
What is the best practice you have seen for workplace birthdays?
[Photo credit: www.flickr.com/photos/19779889@N00.]
Unleashing Your Remarkable Potential: Free Weekly eNewsletter
Subscribe to Kevin's free weekly e-newsletter for practical, applicable tips, tools, and techniques to help you grow as a leader and a learner.





Our Gift with Your Subscription




101 Ways to Unleash Your Potential

, our new e-book.
The 101 Ways are presented in beautiful, thought-provoking images.
Subscribe now or learn more.